My background
I was born in Augsburg, Germany(Bavaria). I was an army brat, but now I have grown roots. I Currently live in Alabama....where they grow mosquitos so large that they can run off with newborn babes. I'm single (well divorced, but it sure counts as single.....ask the IRS) I'm a lot of things to a lot of people......but first and foremost I like to think of myself as an outgoing, friendly woman with a lot of love to give!
We've all heard the stories of princes and knights in shining armor. The wonderful men that are always that are always there.....seem to do nothing wrong.....and are wonderful companions. I've not met a man like that......but if there is one out there that can fit into the qualifications I request (see my prince page ) then I'll believe in fairy tales once again. But remember...I'm not really looking for a knight in shining armor - since shining armor is purely ornamental. I would rather have a knight with a set of rusted and dented armor. That would show me a knight that has been in battle -- rain, snow, blood, and heartache! Sure...I'm a romantic. Deep down I think everyone wishes for a fairy tale life. I'm not LIVING a fairy tale though....so my romance is in the heart......while I live a normal, hard-working day to day life. Just like the rest of us poor schmucks! *lol*



My Resume
Want to know what my skills and qualifications are?Want to know how I spend my time?
Wouldn't you be interested is seeing just how talented I am?SUUUUUUUURRRREEE ya would. I knew you would! So.....follow the link to my resume to see just how special I am *wink*

My Interests
In my free time, I like to play with my friends in the SCA (Society of Creative Anachronism), which is a non-profit organization that recreates the middle ages. Not only the fighting, but lifestyle, and even trades of the times. If you are interested ... please go to the SCA's Home Page and read to your heart's delight. There's something for everyone. Children's activities, dancing, storytelling, and warfare. (yeah, half naked men IN ARMOUR sweating in the hot sun....*shudder* -- need I say more?) Get in touch with the present and the future by walking for a day in the past.

I love to read. I think I have at the very least two books that I am reading at any given time. I keep one in my purse, on my desk, in my car, and yes...even in the "library" (another name for that famous reading place with running water *wink*)

My favorite types of books are mystery and fantasy/adventure, but I've been known to read everything under the sun. I once even read the phone book out of boredom. Surprisingly I found there was a wealth of information I had been overlooking. Maybe YOU ought to take a look at the center "consumer" section of your local phone book! *grin*

Not only do I love to read, I love to talk. I'm not particular about where I talk...so with the internet I can talk to my heart's content. You can usually find me on Yahoo Messenger (nick: mythicmaiden) or AOL Instant Messenger (nick Wyrmegurl). The most important thing to remember while chatting with me is that I do _NOT_ participate in cyber......and that I love a good laugh. Aside from that, I'm easy to get along with. :o) If you get a chance, look me up! I'd be happy to get to know those that could stick with my page long enough to get to THIS part! *wink*


Pictures.....did you say pictures???
For some unknown reason, people are always wanting to see what I look like. I never have understood that fascination with a person's looks. I'm the kind of person that bases my feelings on what lies in the heart and soul of a person. I realize that I am quite different in those thoughts. I have, therefore, put together a small
personal photo album where you can to go see what I look like.
Please don't use any of these pictures for your fetishes, for a dart board, for slobbering on, OR to copy. They are to remain ONLY on this page, unless given consent to do otherwise by ME! Thanks.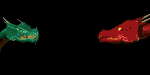 Send me e-mail to: DragonGrl

This page last updated on November 17, 2006.
Disclaimer: all of the images that I have on/in my pages came from public access pages. If any of these images are copyrighted and you would like for me to remove them, or to give credit, please inform me immediately. I'll see that it's taken care of.